#1. Accessible locations in LI
An accessible location should be the first factor to consider when looking for vein clinics in Long Island. Vein treatments usually conclude within an hour with no downtime, which means you can slide them into your daily schedule. Most patients seek vein treatments during their lunch break and then return to work immediately. However, you can only benefit from that if the vein clinic is a short drive from your home or place of work.
VIP Medical Group has some of the most accessible vein clinics in Long Island. They have vein clinics on all parts of the island, including the south shore, north shore, and the Hamptons.
If you're on the south shore, you can visit the vein clinic at 481 W Montauk Highway, Lindenhurst, right on the border of Suffolk County and Nassau County. If you're on the north shore, you can visit the vein clinic at 350 Jericho Turnpike Suite 1A, Jericho. And if you're in the Hamptons, you can visit the vein clinic at 225 W Montauk Highway Suite 3, Hampton Bays. You can also schedule an appointment online.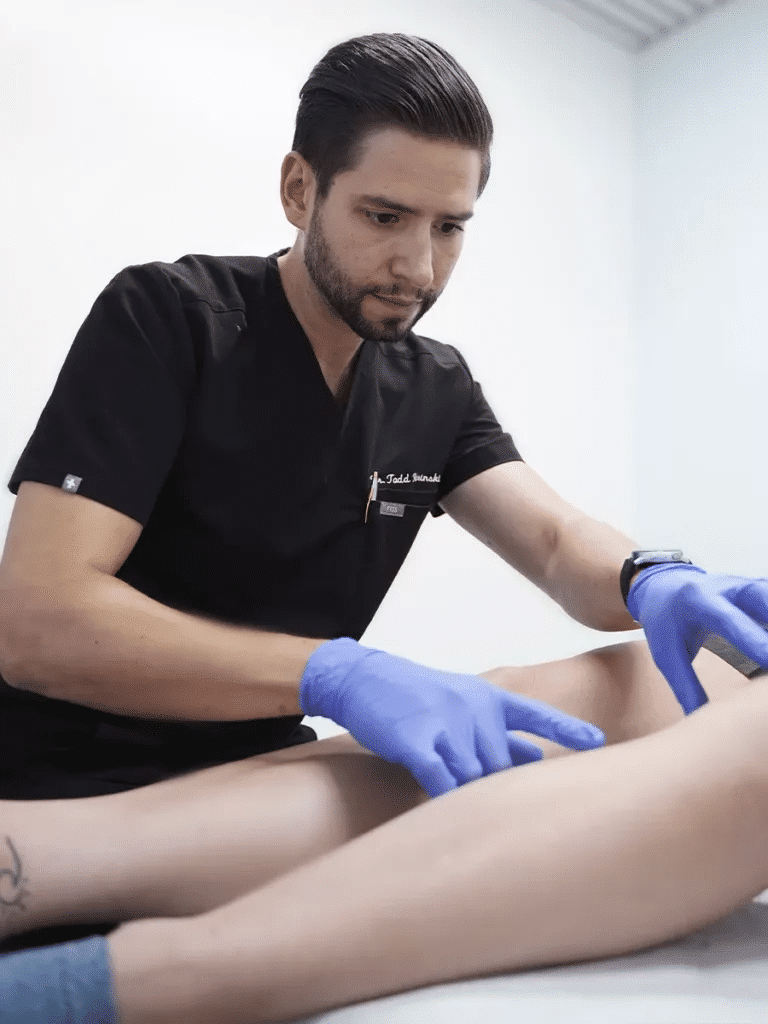 #2. 5-star patient testimonials
You should look for state-of-the-art vein clinics with 5-star ratings and patient testimonials on Google, Facebook, and Real Self. These third-party platforms allow patients to leave reviews for their vein clinics and vein doctors, but these reviews can't be manipulated by the vein clinics. As such, vein clinics with 5-star ratings generally have perfect track records with excellent standards of vein care.
The VIP vein clinics in Long Island have unanimous 5-star ratings and reviews for all of their locations. That indicates they maintain a perfect track record at all times.
One of our recent patients said, "I absolutely love and highly recommend this vein clinic to anyone who is struggling with varicose veins! I had super painful bulging out veins that I would try to hide at all costs. After a year of treatments, I am no longer embarrassed to put on a pair of shorts or a dress that's above my knees!"
#3. IAC accredited vein clinics
The Intersocietal Accreditation Commission officially certifies and recognizes the country's leading vein clinics. They have an extremely strict set of guidelines that medical centers must follow to ensure optimal results and patient safety. However, IAC accreditation isn't mandatory, so only a few vein clinics even attempt the process, and fewer still succeed. You should look for IAC-accredited vein clinics because you can be sure they're highly advanced and safe.
The VIP vein clinics in Long Island have undergone the voluntary accreditation process, and they have successfully received IAC accreditation. That means the vein clinics are equipped with cutting-edge technologies for vein care, and they follow the strictest set of guidelines for patient safety. If you want to seek treatment from the most advanced vein clinics, you should visit the vein clinics in Lindenhurst, Jericho, or Hampton Bays.
#4. Board-certified vein doctors
You should look for board-certified vein doctors. Just like IAC accreditation, board certification isn't necessary to practice vein care, but it helps identify the most skilled and experienced vein doctors. To get board certified, vein doctors must accomplish numerous professional milestones, such as residency programs, fellowship training, and specialized training in the latest minimally invasive vein treatments. They must also undergo ongoing training to stay abreast of the latest developments in vein care.
The VIP vein clinics individually select nationally recognized vein doctors from the country's leading residency and fellowship programs. Furthermore, their vein doctors are board-certified by the American Board of Venous and Lymphatic Medicine, which only certifies the country's top 1% vein doctors. As such, you can be assured that you're in good hands under the care of board-certified vein doctors. The leading vein doctors in Long Island are Dr. Kamran Saraf, Dr. Caroline Novak, and Dr. Thomas Arnold.
#5. Minimally invasive treatments
In the past, vein disease and varicose vein treatments could only be handled with complex surgical procedures, such as vein ligation, venous bypass surgery, and vein stripping. Vascular surgeries involved multiple excisions, general anesthesia, hospitalization, and considerable downtime. They also involved a higher risk of complications, such as infections and deep vein thrombosis, and a lower chance of success.
However, thanks to recent advancements in vein care, vein disease can be treated with minimally invasive procedures, such as radiofrequency ablation, endovenous laser ablation, venaseal, ambulatory phlebectomy, and sclerotherapy. These procedures involve small incisions or injections performed under local anesthesia, and they conclude within an hour with no downtime. Furthermore, they're extremely safe and have nearly perfect success rates.
The VIP vein clinics in Long Island only provide minimally invasive spider vein and varicose vein treatments instead of surgical procedures. The vein doctors diagnose the root cause of your vein problems using ultrasound scans and curate personalized vein treatment plans. Based on the diagnosis and your specific requirements, they recommend the ideal minimally invasive vein treatments to ensure optimal and long-lasting results.
#6. Free insurance verification
The VIP vein clinics in Long Island go beyond most other vein clinics — they provide free insurance verification before your appointment. The insurance concierge will contact your providers on your behalf, work out the terms and conditions of your coverage, and actively help minimize your treatment cost. Furthermore, the vein doctor actively considers your insurance coverage options while curating a minimally invasive vein treatment plan. They accept all major insurance plans, including Medicare.