Top Long Island Vein Doctors
Where Can I Find the Best Vein Center Near Smithtown? And Other FAQs
Where can I find the best vein center near Smithtown?
Depending on your specific location, you can find two state-of-the-art vein centers near Smithtown. Vein Treatment Clinic is an incredibly reputable medical center specializing in minimally invasive varicose vein treatments. We have two medical centers in Long Island, located in Roslyn Park and Lindenhurst, and another facility is soon opening in Jericho. All existing and forthcoming locations are highly-accessible to patients from Smithtown and other neighboring regions.
The following are directions to our vein centers from Smithtown:
VTC Lindenhurst is located at 481 W Montauk Highway, a short 5-minute drive from the southern state parkway and close to the famous fire island. Patients from Smithtown can take a short 25-minute drive to our vein clinic via Sagtikos Pkwy and Southern State Pkwy. You can call us at +1 631-212-1456.
You should also note that the Roslyn Park location is only temporary while we set up our upcoming state-of-the-art facility in Jericho. Due to open on the 1st of March, 2021, VTC Jericho will be located at 350 Jericho Turnpike, right off the northern state parkway.
You can schedule an appointment at your nearest vein center online.
Who's the best vein doctor in Long Island?
Dr. Caroline Novak and Dr. Kamran Saraf are widely recognized as the best vein doctors in Long Island. They're both incredibly talented, kind, and compassionate vascular surgeons with specialized training in vascular imaging and the latest minimally invasive vein treatments. They believe that everyone's vein treatment experience should be physically and emotionally comfortable. To that end, they explain every step of the vein treatment process to their patients to alleviate their concerns and anxieties.
The following is an overview of Dr. Novak's certifications and educational background:
Double board-certified vein doctor specializing in venous medicine and internal medicine.
Registered physician in vascular imaging.
Certified by the American Board of Venous and Lymphatic Medicine.
Residency at the Northwestern Memorial Hospital in Chicago.
Experience as a faculty member at the Memorial Sloan Kettering Cancer Center.
Recipient of numerous teaching awards.
The following is an overview of Dr. Saraf's certifications and educational background:
Specialized training in venous medicine and minimally invasive vein treatments.
Graduated with honors from the University of Maryland.
Master's degree in Physiology and Biophysics from Georgetown University.
Medical degree from the University of Miami.
General Surgery training at Texas Medical Center, the largest medical facility in the world.
Residency in Anesthesiology at the University of Miami / Jackson Memorial Hospital.
Advanced fellowship at the University of Pittsburgh Medical Center.
What are the signs and symptoms of vein disease?
Before we discuss the signs and symptoms of vein disease, it might be beneficial to explain venous insufficiency. Chronic venous insufficiency is a medical condition wherein your vein valves collapse. The vein valves are usually responsible for effective one-way blood circulation to the heart. When they collapse, the force of gravity makes your blood flow backward and accumulate in your leg veins. The continued accumulation of blood in the leg veins leads to various vein problems, including spider veins, varicose veins, etc.
The following are the early signs and symptoms of vein disease:
Leg heaviness
Restless leg syndrome
Frequent leg cramps
Leg swelling
Leg pain
Spider veins — dense clusters of blood vessels on the skin's surface
Varicose veins — dense, tangled, knotted, and bulging veins
Symptoms worsen at the end of the day or after long periods of inactivity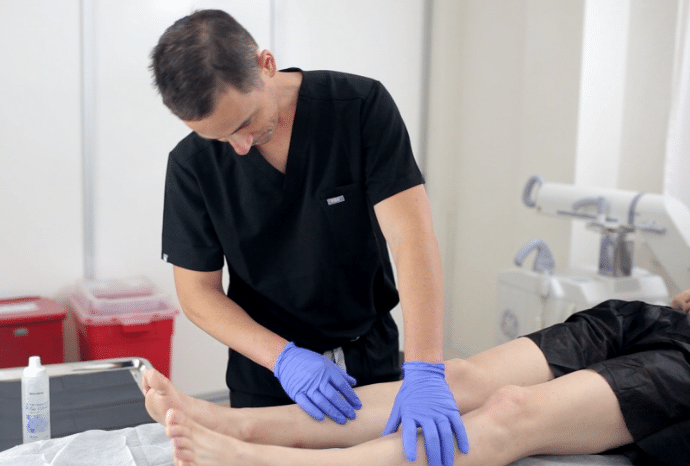 We know health insurance is confusing so we will help you check if you're covered:
By emailing or contacting us, you are accepting the inherent privacy limitations of online communication. For more information, please read our Digital Communications document. Please respond "STOP" to any text messages to opt out.
What happens if I don't seek varicose vein treatments?
Venous insufficiency is a chronic condition that worsens with time as more blood continues accumulating in your leg veins. If you don't seek vein treatment, your vein problems will continue escalating until you experience other problems.
The following are some of the advanced complications of untreated vein disease:
Profuse bleeding from the varicose veins if they burst due to over-dilation.
Skin discoloration due to the lack of effective blood circulation in the leg veins.
Skin disease — the formation of rust-colored and leathery patches on the skin.
Leg ulcers or non-healing wounds on the skin's surface due to ineffective blood circulation.
Deep vein thrombosis — blood clots formed within the leg veins.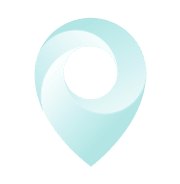 Visit Our Long Island Vein Treatment Center
What are the best treatments for spider veins and varicose veins?
Minimally invasive procedures are the best treatments for spider veins and varicose veins because they're safe, effective, painless, and conclude within an hour with no downtime. However, there are several minimally invasive vein treatments, including radiofrequency ablation, endovenous laser ablation, VenaSeal, sclerotherapy, and ambulatory phlebectomy. The ideal vein treatment for you depends on your specific condition.
The following is a brief description of the best minimally invasive treatments for spider veins and varicose veins:
Radiofrequency Ablation: Thermal energy is channeled via a catheter to collapse the diseased vein.
Endovenous Laser Ablation: Laser energy is channeled via a laser fiber to collapse the diseased vein.
VenaSeal: A medical-grade adhesive is injected into the diseased vein to seal its walls.
Ambulatory Phlebectomy: The bulging veins are extracted via small incisions on the skin's surface.
Sclerotherapy: A special sclerosant solution is injected into the spider veins to make them seal shut and get absorbed by the body.
Long Island
Vein Specialists
Meet your Long Island NY Vein Doctor
With Harvard Trained Medical Directors, our vein clinic Long Island sources only the top spider and varicose vein experts in the country.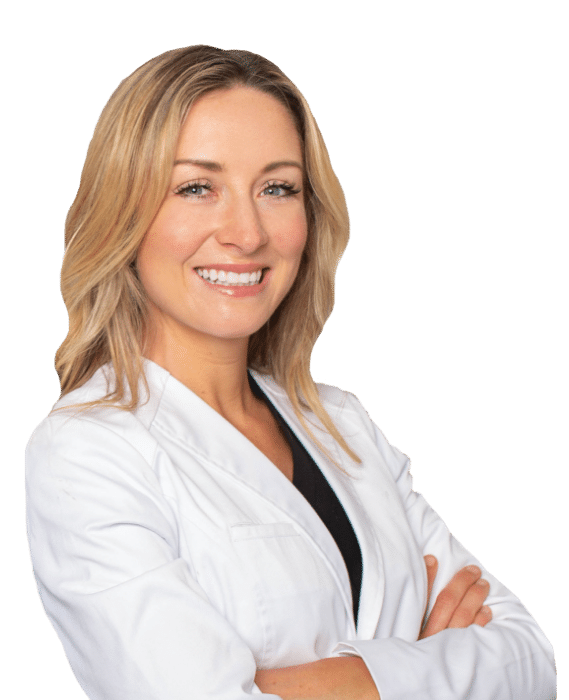 Join thousands of happy patients just like you
Vein treatments are often covered by major medical insurances, including Medicare. How do you know if your insurance will cover your vein treatment?