1. You Can Book an Appointment in Seconds
No matter how great the music is, no one likes sitting on hold to book an appointment. When you're concerned about your vascular health, that frustration can even turn into anxiety. Our vein doctor in Jericho values your time, as well as your peace of mind. So, we offer several ways to book an appointment within seconds. You can call our Jericho vein center directly at (631) 919-4978, call our appointment line at (855) 982-9678, or simply book online for your convenience.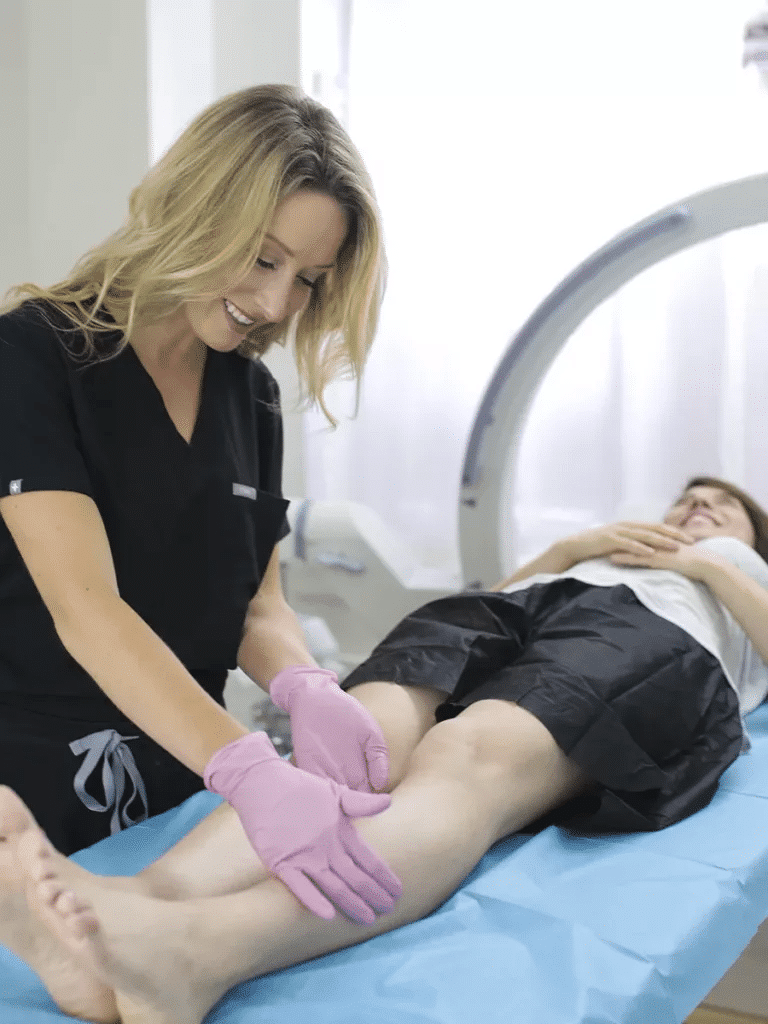 2. Our Insurance Team Pre-Verifies Your Coverage
Once you're ready to book an appointment, our insurance specialists will verify your coverage before you arrive for your visit. This simplifies the process immensely since you don't have to waste time going back and forth with your insurance agent to determine your portion of the bill. We partner with most major insurance carriers, so the majority of our patients don't pay out of pocket for our procedures. Since our vein doctors in Jericho are board certified in venous medicine, it's easier to get coverage approved for our treatments.
3. Our State of the Art Vein Clinic Won't Keep You Waiting
Once you arrive at your appointment, you won't get stuck in the waiting room for any length of time. Our medical group has always prioritized our patients' time by scheduling fewer patients and spending more time with each one. In light of Covid-19, we've streamlined our waiting room procedures even further, so you can be seen right away. It's much easier to fit a doctor's appointment into your day when you know exactly how long it will take, which is why we keep waiting to a minimum at our state of the art vein treatment center.
4. Our Spider & Varicose Vein Treatment Takes 15-30 Minutes
Spider vein and varicose vein treatment used to be more time intensive, and also more invasive. But modern technology enables our doctors to treat your veins in just 30 minutes or less! With ultrasound guidance, we can identify the problematic vein, position the treatment device, and observe the treatment's performance in your vein, all in a single procedure. Patients with widespread vein damage may require an additional appointment to treat all of their veins. But most patients are in and out of our office in a matter of minutes with permanent results.
5. Our Vein Doctor in Jericho Gets to Know You
Our vein doctor in Jericho takes time to get to know each patient. How does this simplify treatment? Because we customize your care. We don't take a "try and see" approach to treating veins like some vein clinics do. We make sure we have the best plan in place before we begin treatment. For some patients, that means a combination of methods for best results. You won't leave our vein clinic until you're completely satisfied with your results, which is not the case at some other Jericho vein clinics. In fact, some of our patients visit us when their treatments elsewhere have failed. Our cutting edge technology takes the guesswork out of our treatments, so you can count on a flawless finish.
6. Our Vein Doctors Answer All of Your Questions
Have you ever been too nervous to ask your doctor a question? Have you ever left an appointment forgetting to ask an important question? Our vein doctors know how important it is to answer your questions, not just for your own peace of mind, but also to make sure we understand your concerns, prior treatment attempts, and any coexisting conditions. You need not worry that you'll leave our vein center with unanswered questions. Inquiring and listening are two of our top priorities, and we'll make sure to cover all of the bases.
7. Our Spider Vein and Varicose Vein Care Needs No Downtime
No downtime? That's one of the best ways a doctor can simplify your care. It's true that with our spider vein and varicose vein procedures, you won't need time to recover. Most patients head right back to work and resume their typical activities right after treatment. This is a tremendous advantage over the vein surgeries performed by a vascular surgeon who's untrained in minimally invasive techniques. While some patients require surgery, most do not. Visit our renowned vein doctor in Jericho for a rapid recovery.
8. We Treat Both Chronic Venous Insufficiency & Vein Damage
Another way we simplify vein care is by treating both Chronic Venous Insufficiency and vein damage in the same office. Many times, we are able to treat both the vein disease and the damaged vein with the same injection. This saves you a ton of time and hassle, since untreated Chronic Venous Insufficiency creates more spider veins and varicose veins over time. If you want a quick and lasting solution for your venous issues, don't choose a vein clinic that only provides superficial repairs. Choose the vein doctor who treats the deeper issue.
9. We're at 350 Jericho Turnpike by Northern State Parkway
If you're looking for a medical clinic that saves you time, look no further than our convenient vein center at 350 Jericho Turnpike. We're located right near Northern State Parkway for an easy commute to your appointment. Patients love how quickly they complete their visit, leaving with an exhilarating new outlook on their health and skin's appearance. Our doctors follow-up with each patient and consistently hear that they're 100% satisfied with the ease of treatment.
10. We Also Have Partnering Vein Doctors Near Jericho
To make things even easier, we also have multiple locations throughout Long Island, including offices in Jericho, Hampton Bays, and West Islip. In addition, we have several vein clinics throughout neighboring Manhattan and New Jersey. For the ultimate convenience in scheduling an appointment, contact our vein center today to select your preferred location. We look forward to showing you how simple vein care can be!