1. Top Vein Specialist on Long Island Customizes Treatment
One of the chief advantages to seeing a board certified vein specialist in Long Island is that they can customize your treatment. Specialists who are board certified in venous medicine completed additional training specific to your vein issues and the vein procedures that you need. As a result, they can offer solutions that are designed precisely for you. Our Harvard-trained physicians frequently use a combination of innovative techniques to deliver a flawless finish. We start with an in-depth exam that considers your medical history, concerns, and symptoms, and end with a solution you're completely satisfied with.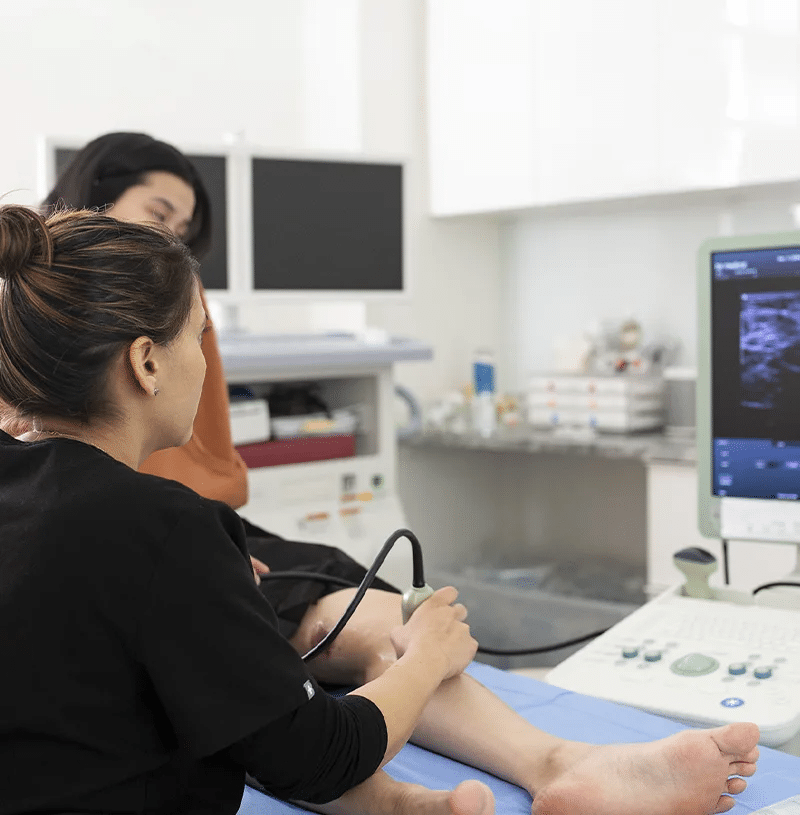 2. Top Long Island Vein Specialists Use State of the Art Tools
The second reason to choose premiere Long Island vein specialists is that they use state of the art tools for vein care. With technology like Doppler Ultrasound, specialty catheters, and radiofrequency, our medical group delivers remarkable results through minimally invasive methods. Our award-winning medical clinic strives to bring you the latest vein treatments in an outpatient setting at a price you can afford. Our groundbreaking techniques eliminate downtime and risks associated with traditional vein surgery.
3. Top Vein Specialist on Long Island Listens to You
The third perk of choosing an esteemed vein specialist on Long Island is that they'll actually listen to your concerns. Our team of esteemed vein specialists graduated at the top of their class and continues to lead in their field, setting care standards for other vein clinics to follow. One of the keys to our success is being great listeners. We enjoy getting to know each of our patients and we value their input as it greatly informs our decisions. Our goal is for patients never to leave an appointment with unanswered questions. Don't hesitate to contact us with any concerns or to book an appointment to learn more.
4. Top Vein Centers Offer Spider & Varicose Vein Treatment
The fourth advantage to consider is that the best vein centers aren't merely cosmetic clinics. They offer both spider and varicose vein treatment, and even find the root cause of your spider or varicose veins to prevent them from recurring. If you simply seek cosmetic repair, you'll likely be back for future treatments, since treating the underlying issue is the route to long-term results.
5. Best Vascular Surgeons on Long Island Prevent Surgery
A fifth benefit to seeing the best vascular surgeons on Long Island is that reputable surgeons will actually help you avoid surgery. Surgical removal of veins was once a first-line treatment, but newer techniques have replaced that method for the majority of patients. Well-trained vascular surgeons will now recommend things like sclerotherapy, VenaSeal, Varithena, or radiofrequency ablation whenever possible since these techniques are less invasive and highly effective. Some patients will still require surgery, but if you pick a top vascular surgeon, you're more likely to avoid it.
6. Best North Shore Vein Center Has Several Treatment Plans
The sixth reason to select the best North Shore vein center is that you'll have treatment options to choose from. Some less equipped vein centers are only trained in a single procedure like liquid sclerotherapy or topical lasers. At each of our Hamptons, South Shore, and North South vein centers, we provide several options including medical adhesives, pre-mixed foam sclerotherapy, RFA and combined tactics to alleviate your issues. We explain each option you're eligible for so you can participate in the decision.
7. Top Vein and Laser Center in Manhasset, NY Finds Disease
The seventh, and possibly most important, reason to choose an accredited vein and laser center in Manhasset, NY is that they can identify vein disease. Chronic Venous Insufficiency is a widespread problem that many people don't know they have. It involves valve failure within a vein that allows blood to accumulate and form visible spider or varicose veins. Without treatment, Chronic Venous Insufficiency will worsen and will continue to create more damaged veins. This is just one of the vein diseases that needs medical attention. Select a qualified medical clinic to identify any underlying disease.
8. Top Vein Care Center Is More Than a Varicose Center
Reason number eight is that vein issues span beyond the realm of varicosities. Varicose veins are uncomfortable and unpleasant to look at. But poor circulation also leads to things like Restless Legs Syndrome, insomnia, cramping, swelling, leg heaviness, achiness, fatigue, hyperpigmentation on the lower extremities, venous ulcerations, stasis dermatitis, blood clots, and bleeding that's hard to control. A top vein care center is more than just a varicose center. It's a place where all of these concerns will be addressed. Our team looks closely at your individual venous anatomy, skin's appearance, and symptom profile to determine a diagnosis and the best course of action.
9. Top NY Vein Clinic Has Doctors With 30 Years'Experience
The ninth way a top NY vein clinic can help is that it's fueled by experience. The best vein clinics achieve their reputation by a proven track record. Our team has witnessed the advances in venous medicine and has contributed to research, vascular medicine conferences, and medical textbooks as part of our ongoing training. Our doctors have each had a prolific career, including Dr. Caroline Novak, a renowned vein specialist, pain specialist, and hospitalist, as well as Dr. Thomas Arnold, whose 30 years of experience includes thousands of vein procedures and vascular surgeries.
10. Best Varicose Vein Treatment Center Accepts Insurance
A tenth incentive to choose a reputed varicose vein treatment center is that they'll accept your insurance plan for your treatment. Cosmetic vein treatments are often considered elective at beauty spas or dermatologists. Our team can prove the medical necessity of your vein treatment with technology that identifies the malfunction in your veins. We partner with all major carriers, which means that most patients receive treatment with no out of pocket expenses. Our insurance specialists guarantee your coverage pre-treatment, so you won't have any unexpected bills.
11. Best USA Vein Clinics Help You Schedule a Consultation
The eleventh thing our caring vein team does is make it easy to schedule a consultation. We value your time and won't leave you waiting on hold or make you wait months for an appointment. You can give us a call or fill out a form online and we'll contact you to confirm your appointment. With locations throughout North Shore and South Shore Long Island, we have several USA vein clinics ready to assist you.
12. Best Vein Care Near Valley Stream, NY Is Convenient
The twelfth benefit of choosing the best vein care in Valley Stream, NY is that our offices are conveniently located. With vein clinics in Jericho, West Islip, and Hampton Bays, care is just around the corner from your home or office. Many of our patients treat their veins on their lunch break and head straight back to work. With gentle procedures and no recovery time required, our vein care center makes treatment easy and efficient. Contact us today to get started!