1. Spider Vein and Varicose Vein Damage Isn't Superficial
How many times has swimsuit season snuck up on you before you were ready? Maybe you planned to lose a few pounds, tone up, or treat those spider veins and varicose veins spreading across your legs, but suddenly, summer arrived. This year, don't wait until summer to address spider vein and varicose vein damage, because the issue might not be superficial. Most defective veins at the surface of the skin stem from valve failure in deeper veins, a condition called Chronic Venous Insufficiency. Health risks, unpleasant symptoms, and the proliferation of additional damaged veins are all caused by ignoring those unsightly veins. Book an appointment with a top vein specialist in Jericho today to prevent unnecessary complications.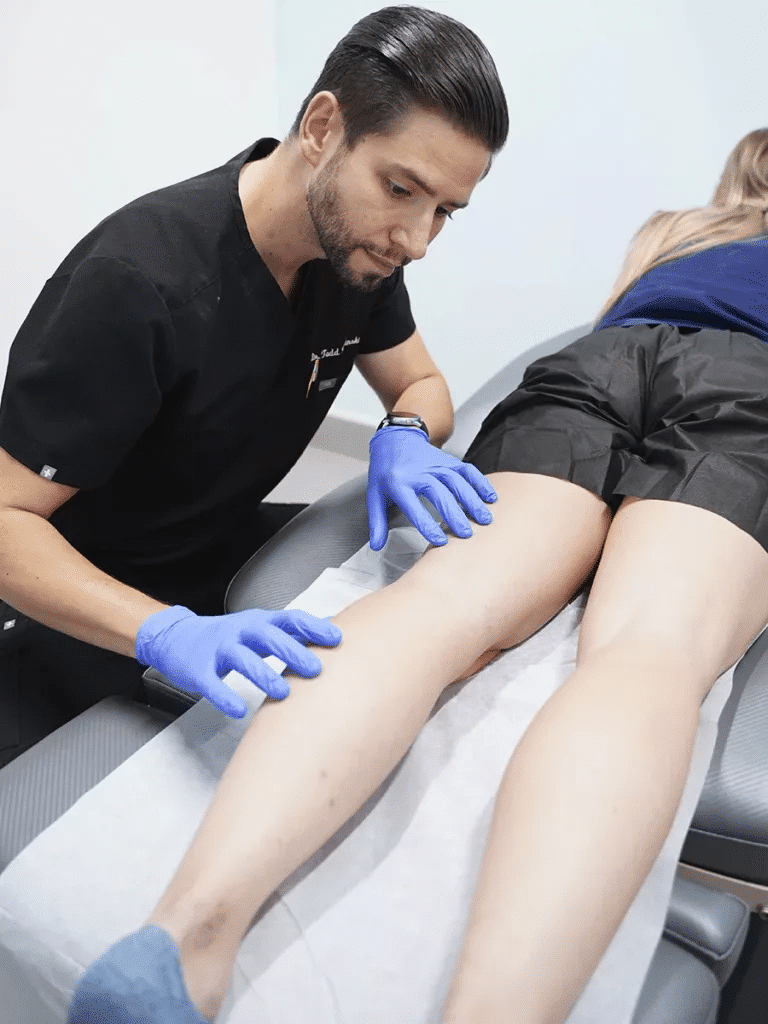 2. Varicose Vein Treatment Improves Your Quality of Life
Varicose vein treatment isn't just something you do to improve your skin's appearance. It also vastly improves the quality of life for patients with symptoms like heaviness, swelling, cramping, restlessness, venous ulcerations, stasis dermatitis, and hyperpigmentation. While the warmer months mean more skin exposure, you shouldn't wait until others can see your varicose veins to address the issue. You deserve to feel better today, whether your veins are concealed or not. Your energy level, confidence, and overall health will improve when you repair your circulatory issues. Treating spider veins and varicose veins restores your ability to enjoy life to its fullest, which is a worthwhile endeavor in every season of life.
3. Vein Specialists Identify Vein Diseases and Blood Clots
Qualified vein specialists identify vein diseases like Chronic Venous Insufficiency and blood clotting issues like Deep Vein Thrombosis. DVT can have symptoms like leg pain and swelling but can also be asymptomatic. It typically occurs in one of the deeper leg veins and is not visible to the patient. If you have spider veins or varicose veins, it's important to see a vein specialist to inquire about vein disease and blood clots. If a DVT breaks loose and travels to your lungs, it can cause a pulmonary embolism. This potentially fatal situation is called venous thromboembolism. Waiting until summer to treat veins increases the risk that a serious problem goes undiagnosed. It's essential to choose a qualified vein specialist since most cosmetic vein centers can't identify issues deeper in your veins.
4. A Good Vein Specialist in Jericho Improves Circulation
Venous valve failure can cause spider veins or varicose veins to form, since it allows blood to collect beneath the broken valve. This engorges the vein, creating tiny offshoots (spider veins), or enlarged, twisted vessels (varicose veins) that attempt to contain the excess blood. Veins are supposed to pump blood up to the heart, but this reflux (backward flow) stifles the process. Poor circulation leads to swelling, discomfort, discoloration, venous eczema, and a host of uncomfortable symptoms, including itching, cramping, ulcerations, and restless sleep. Seeing a vein specialist is about more than just looking your best. It's also about optimizing your circulation to assist your veins in their duties, making you healthier and happier in the process.
5. You Don't Need Time Off for State of the Art Treatments
If you're waiting for summer to seek vein treatment because you assume you'll need to take time off work, think again. State of the art vein treatments are done in 15-30 minutes, and there is no downtime involved. Our patients seek treatment on lunch breaks or coffee breaks, on their way to work, or between their errands. You can walk immediately following our procedures, and won't need crutches, a wheelchair, or visible aids that reveal your treatment to others. At most, you'll wear a compression stocking under your clothing, but many of our treatments don't even require that. We offer procedures that allow you to shower, bathe, work, exercise, and complete all of your usual activities. We have several options for you to choose from, so you can select the one that suits your lifestyle.
6. Board Certified Vein Specialists Get to Know You
Another reason not to wait until the last minute to seek vein treatment is that good vein specialists want to get to know you. Our medical group offers rapid treatments that work right away. But we take time with our consultations. We want to understand your medical history, your concerns, your symptoms, and your venous anatomy to create the ideal treatment plan. Our physical exam might include blood work, Doppler ultrasound scans, or other imaging to locate the source of your issues. If you simply pop into a beauty spa for vein treatment, your results will likely be temporary or even ineffective, if the underlying issue isn't addressed. You might also neglect a serious issue that poses more risks than visible vein damage.
7. If You Book an Appointment, You'll Feel Better Today
One of the best reasons to book an appointment sooner than later is that you deserve to feel better today! We often postpone our own self-care to tend to the needs of others. But when you feel great, you have so much more to offer to those around you. Our treatments are so quick and easy that you won't even need an hour to resolve your vein issues. Take a few minutes to treat your veins and you'll be amazed by the way it invigorates you and enhances your productivity.
8. We're Near Northern State Parkway & Long Island Expressway
If we're lucky, summer takes us in a million different directions: beach trips to the Hamptons, family reunions, outdoor adventures with our kids. Why not treat your veins now, while solutions are right around the corner? With vein clinics near Northern State Parkway and Long Island Expressway, our Jericho vein specialists are right where you need them, providing care when it's convenient for you. Add a 30-minute block to your schedule and that's all you'll need to feel your best when you head off on those summer excursions.
9. Our Vein Center at 350 Jericho Turnpike Has Availability
Most of us procrastinate about one thing or another, and unfortunately healthcare sometimes falls down the to-do list. If you wait until summer to book an appointment, you'll be competing with others for those last-minute time slots before vacation. Instead, visit us now, and head into summer stress-free. Unlike other vein centers, our vein treatment clinic at 350 Jerico Turnpike offers permanent solutions, so you can treat your veins today and still look flawless when beach season rolls in.
10. You Don't Need to Wait to Afford Our Medical Center
If you're postponing treatment so you can save up for the expense, we encourage you to give us a call. We partner with all major insurance carriers, and our insurance specialists will guarantee coverage prior to your treatment. You'll know exactly what your procedure will cost and can decide whether to proceed. Since we're a fully accredited and licensed medical group, led by board certified doctors, most of our procedures are entirely covered by insurance. Our team excels at matching you to the perfect solution to make care affordable, effective, and exceptional.