Meet Dr. Thomas Arnold
Dr. Thomas Arnold is widely considered the leading vein specialist in the Hamptons, Long Island, as evidenced by his unanimous 5-star ratings and reviews from patients. He is an incredibly compassionate and talented vein doctor with 25+ years of experience, having dedicated his entire career to caring for the vascular health of Long Island residents.
Besides excellent bedside manners, Dr. Arnold also has stellar credentials. He graduated from the prestigious University of Pennsylvania and joined the faculty at the State University of New York at Stony Brook in 1993. He specializes in ultrasound-guided minimally invasive spider vein and varicose vein treatments and stays abreast of the latest developments in vein care.
You can find Dr. Arnold at our state-of-the-art spider vein and varicose vein treatment clinic in the Hamptons. The vein clinic is located at 225 W Montauk Highway Suite 3 in Hampton Bays, in collaboration with the stellar group of skin specialists called MDCS Dermatology. If you have spider veins, varicose veins, or restless leg syndrome, please schedule an appointment with Dr. Arnold today.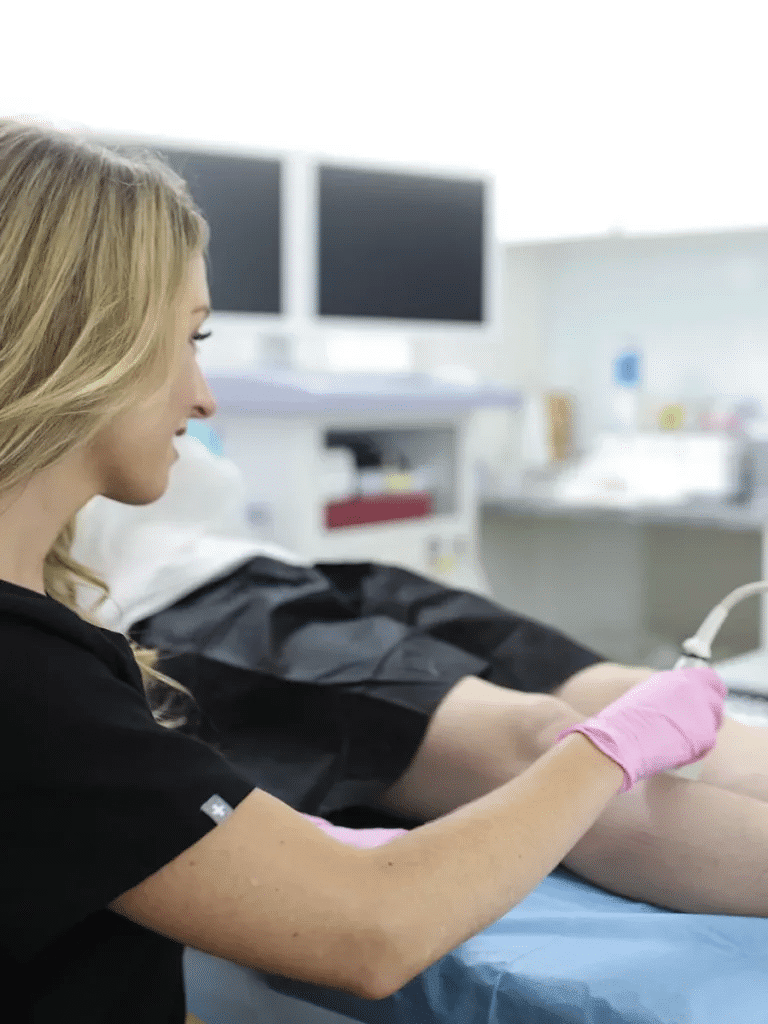 You may have some questions about what you can expect from spider vein and varicose vein treatments. We've noticed that patients often avoid seeking vein care because they're afraid the treatment would be surgical or involve downtime — that's not true. We only provide minimally invasive spider vein and varicose vein treatments that conclude within an hour with no downtime or complications.
Below, we provide a step-by-step overview of the vein treatment process in the Hamptons, LI.
Step 1: Initial Consultation
Your vein treatment process starts even before your initial consultation with the Hampton vein and vascular doctor. When you first schedule an appointment, our front desk team will reach out to request your insurance details. We provide free insurance verification even before your first appointment — that allows us to customize the treatments according to your specific insurance policy. It also allows us to provide a complete breakdown of your vein treatment costs, with and without insurance coverage, before your procedure.
After verifying your insurance details, which should take about 24 hours, the front desk team will help you schedule an appointment at your nearest vein treatment clinic in Long Island. During your appointment, our staff will ask standard questions about your symptoms and medical history, which they'll offer to the vein doctor. When you meet with the vein doctor, you can expect a thorough physical examination and a discussion of your symptoms, with the goal to determine if you have chronic venous insufficiency.
Chronic venous insufficiency is the root cause of most vein problems, including spider veins and varicose veins. The vein doctor will ask if you experience leg heaviness, restless leg syndrome, frequent leg cramps, or other symptoms of vein disease. This will help them better understand your situation and goals, which will help them curate the appropriate vein treatment plan. We encourage you to be completely honest about your symptoms and medications at this point.
Step 2: Vascular Imaging
After the initial consultation, the vein doctor will schedule an ultrasound scan, known as duplex ultrasound. The ultrasound sonographer will move a handheld device over your legs to emit ultrasound energy, which will produce a visual image of the blood flow in your leg veins on a computer screen. The vein doctor will study your blood circulation to determine if you have chronic venous insufficiency.
Step 3: Treatment Planning
After diagnosing chronic venous insufficiency, the vein doctor will curate a personalized vein treatment plan. This is a collaborative process wherein the vein doctor will highlight all of your vein treatment options. He will describe their advantages, drawbacks, risks, costs, and insurance coverage options, giving you all the information to make an informed decision. The vein specialist will also recommend the ideal treatment plan after considering your diagnosis, symptoms, medical history, and lifestyle.
Step 4: Primary Vein Treatment
The primary vein treatment is meant for patients with chronic venous insufficiency. At this stage, the vein doctor will treat the root cause of your vein problems using one of the following minimally invasive vein treatments — radiofrequency ablation, endovenous laser ablation, or venaseal. These procedures have the same underlying goal, but they involve using different techniques. The vein doctor will channel thermal energy, laser energy, or medical adhesives into the diseased vein via a catheter or injection to collapse the vein's walls. The accumulated blood will reroute into healthier leg veins, restoring perfect blood circulation to your heart.
Step 5: Cosmetic Vein Treatment
Once the underlying vein disease is treated, the vein doctor will focus on cosmetic relief. At this stage, the vein expert may use ambulatory phlebectomy or sclerotherapy to remove the superficial varicose veins and spider veins. Ambulatory phlebectomy is a minimally invasive procedure wherein the vein doctor physically extracts the superficial varicose veins through small incisions on the skin's surface. Sclerotherapy is a minimally invasive procedure wherein the vein doctor injects the sclerosant chemical into the spider veins to seal their walls, turning them into hardened tissues eventually metabolized by the body.
Step 6: Recovery & Aftercare
Minimally invasive vein treatments are in-office and outpatient procedures that conclude within 30 to 60 minutes. After the procedure, the vein doctor will apply pressure on your legs while you stand up. You will have to wear compression stockings for a few days or weeks to minimize the risk of vein disease recurrence. The vein specialist in the Hamptons will also provide an overview of your recovery guidelines. You can resume your daily activities and work immediately after the treatment — minimally invasive vein treatments are lunchtime procedures.