Meet Dr. Kamran Saraf
Meet Your Vein Doctor in Long Island
Dr. Kamran Saraf is a compassionate and friendly vein doctor specializing in the latest minimally invasive procedures for spider veins and varicose veins. He takes a comprehensive and personalized approach to vein treatments, ensuring optimal results.

Introducing Dr. Kamran Saraf
Your Spider Vein and Varicose Vein Specialist in LI
Dr. Saraf currently sees patients at the South Shore Long Island Vein Center in Lindenhurst. Besides being loved by his patients, as evidenced by his numerous Patient's Choice Awards, he has an exceptional educational background.
Dr. Saraf received his bachelor's degree in Neurophysiology from the University of Maryland, from which he graduated with Honors. He completed his master's degree in Biophysics and Physiology from Georgetown University, following which he acquired his medical degree from the University of Miami.
Dr. Saraf completed his General Surgery training at the world's largest medical facility, the Texas Medical Center. He also completed his residency training in Anesthesiology from the University of Miami/ Jackson Memorial Hospital. Dr. Saraf eventually completed his fellowship training at the University of Pittsburgh Medical Center.
SPIDER & VARICOSE
VEIN TREATMENTS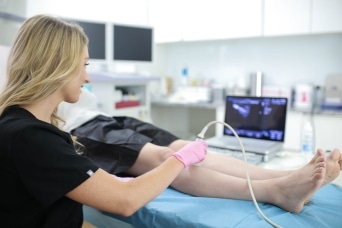 Are you looking for the right vein treatment for your symptoms?
If you're experiencing the signs and symptoms of vein disease, such as spider veins, varicose veins, and restless leg syndrome, please contact our vein doctors in Lindenhurst, Long Island. Our vein doctors will perform ultrasound scans to diagnose and treat the root cause of your problems. Most insurance plans, including Medicare, cover the following vein treatments.
ClariVein

VenaSeal

Radiofrequency Ablation

Endovenous Laser Ablation

Sclerotherapy
Let us give you a

Life-changing Experience
Enter your information below to get started
By emailing or contacting us, you are accepting the inherent privacy limitations of online communication. For more information, please read our Digital Communications document. Please respond "STOP" to any text messages to opt out.

Call Us
You can talk directly with our team members. They will answer your questions about insurance coverage and help you book an appointment at the vein center in Long Island. Please call us at (631) 305-2827

Book online
You can visit our official website to schedule an appointment online at your nearest vein center in Long Island. We also provide free insurance verification before your appointment.

Get directions
Learn how to easily get to the Jericho, West Islip and Hamptons vein centers.