How much does it cost to get your veins stripped?
The cost of varicose vein stripping depends on numerous factors, including the location of the vein center, the healthcare provider, the length of the treatment, the doctor's fees, and the location and size of varicose veins. Your insurance plan will cover the entire or part of the treatment if the procedure is medically necessary and if you meet your insurance provider's requirements. However, we generally avoid varicose vein stripping and all other surgical procedures until all minimally invasive treatments have been tried.
Varicose vein stripping is a complex surgical procedure that involves a large incision that extends down your leg. It's performed under general anesthesia in a hospital setting and involves a fairly high risk of infections, deep vein thrombosis, and other complications. Vein stripping may have been the go-to treatment for varicose veins a few decades ago, but thanks to the emergence of minimally invasive procedures, vein stripping is considered obsolete. No reputable vein doctor will recommend vein stripping when minimally invasive procedures are safer, more effective, and more convenient.
Long Island Vein Center is led by highly-skilled vein doctors specializing in the latest and safest minimally invasive vein treatments. We treat spider veins and varicose veins using minimally invasive procedures that conclude within an hour, involve a negligible risk of complications, and involve no downtime. You can resume all of your daily activities and work immediately after our vein treatments. Furthermore, we offer free insurance verification and actively help maximize your insurance coverage. We also follow a strict no-surprise-billing policy and provide an itemized breakdown of your vein treatment cost before your procedure.
You can find our vein centers in West Islip, Jericho, and Hampton Bays. Our vein center in West Islip is located at 500 Montauk Highway, Suite G, right on the border of Suffolk County and Nassau County. Our vein center in Jericho is located at 350 Jericho Turnpike Suite 1A, and our vein center in the Hamptons is located near South Hampton, Water Mill, and East Hampton. Please schedule an appointment at your nearest vein center in Long Island for a comprehensive and personalized minimally invasive vein treatment plan.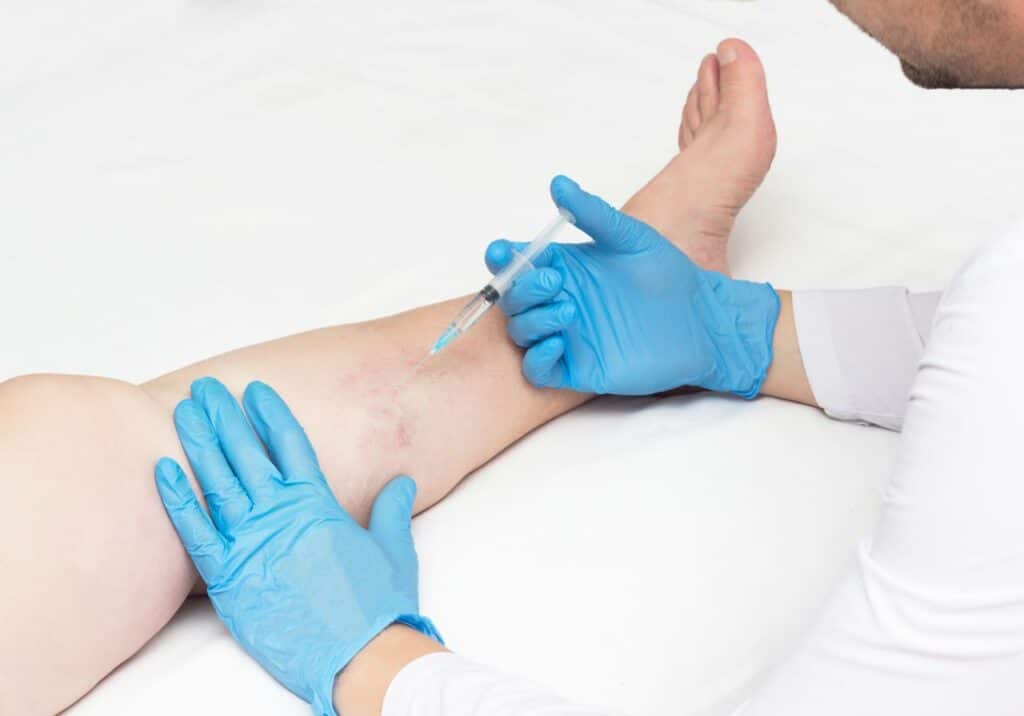 Is vein stripping permanent?
Vein stripping is a permanent procedure. During varicose vein stripping, the vascular surgeon makes a large incision on your leg, following which the diseased saphenous vein responsible for your vein problems is surgically removed. The accumulated blood reroutes into healthier leg veins and restores optimal blood circulation. Since vein stripping addresses the root cause of your vein problems, it minimizes the risk of varicose vein recurrence. Vein stripping is permanent, but it's not the only procedure with permanent results.
Minimally invasive vein treatments, such as endovenous laser ablation and radiofrequency ablation, also produce permanent results. Endovenous ablation involves channeling thermal or laser energy into the diseased saphenous vein to make it collapse. The accumulated blood reroutes into healthier leg veins, restoring optimal blood circulation to the heart. Since the diseased vein is destroyed, it can't return. But unlike vein stripping, endovenous ablation can produce permanent results without large incisions, hospitalization, general anesthesia, or weeks of downtime.
What are the side effects of vein stripping?
The most common side effects of varicose vein stripping include swelling, bruising, pain, changes in sensation, changes in skin color, etc. But you may also experience rare side effects and complications, such as severe discomfort, scarring, infections, and blood clots in leg veins (deep vein thrombosis). Minimally invasive procedures, such as endovenous ablation, have a significantly lower risk of major complications.
Is it worth getting varicose veins removed?
Varicose veins aren't purely cosmetic problems — they're indicative of underlying chronic venous insufficiency. If you have varicose veins, you may also experience considerable leg pain, leg heaviness, restless leg syndrome, frequent leg cramps, and other symptoms of vein disease, such as leg ulcers. Minimally invasive procedures that remove varicose veins and treat underlying vein disease alleviate your symptoms and prevent the potential long-term complications of vein disease.
Do veins grow back after removal?
Veins can't grow back after they've been removed. Once your varicose veins are removed, they can't grow back. But you can develop new varicose veins if the root cause of the problems (chronic venous insufficiency) hasn't been solved. To minimize the risk of varicose vein recurrence, your vein doctor will have to diagnose and treat underlying chronic venous insufficiency. If you develop new varicose veins, you'll have to undergo another round of varicose vein treatments.
Can varicose veins go away naturally?
Varicose veins can't go away naturally because the damaged vein valves responsible for your vein problems can't heal. The only way to eliminate your varicose veins is to seal, collapse, or physically remove them from your body. Furthermore, the vein doctor must also destroy the diseased saphenous vein responsible for your vein problems to prevent new varicose veins from being formed.
What happens if varicose veins are left untreated?
If varicose veins are left untreated, blood will continue accumulating in the leg veins, leading to increased vascular dilation. The varicose veins will become bigger and thicker, and you may soon develop new varicose veins. Over time, you may also notice other complications of vein disease, such as leg swelling, leg ulcers, and deep vein thrombosis, which can lead to blood clots that can travel to the lungs and cause a potentially fatal pulmonary embolism. If you notice varicose veins, you must contact highly-skilled vein doctors in Long Island.