If you're experiencing issues with spider veins or varicose veins, it's important to seek the expertise of a qualified vein doctor for effective treatment. Long Island Vein Center, led by a team of board-certified vein doctors, offers comprehensive care for vein conditions. With a commitment to providing minimally invasive treatments and personalized care, we prioritize your vein health and overall well-being. In this article, we delve into the various services we provide, our diagnostic approach, and the locations where you can find our vein centers.
Minimally Invasive Treatments for Spider Veins and Varicose Veins
At Long Island Vein Center, we specialize in minimally invasive treatments for spider veins and varicose veins. These treatments are designed to provide effective results while minimizing discomfort and downtime. Our range of treatment options includes:
Sclerotherapy: This procedure involves injecting a special solution into the affected veins, causing them to collapse and gradually fade away.
Endovenous Laser Ablation: Using laser energy, this treatment targets the underlying cause of varicose veins, sealing them shut and redirecting blood flow to healthier veins.
Radiofrequency Ablation: Similar to endovenous laser ablation, radiofrequency ablation utilizes heat energy to close off diseased veins, leading to their gradual disappearance.
VenaSeal: This innovative treatment involves using a medical adhesive to seal off varicose veins, restoring healthy blood circulation.
ClariVein: Combining mechanical and chemical methods, ClariVein disrupts the vein walls and introduces medication, leading to the closure of diseased veins.
Ambulatory Phlebectomy: This technique involves the removal of superficial varicose veins through small incisions, promoting both cosmetic and functional improvements.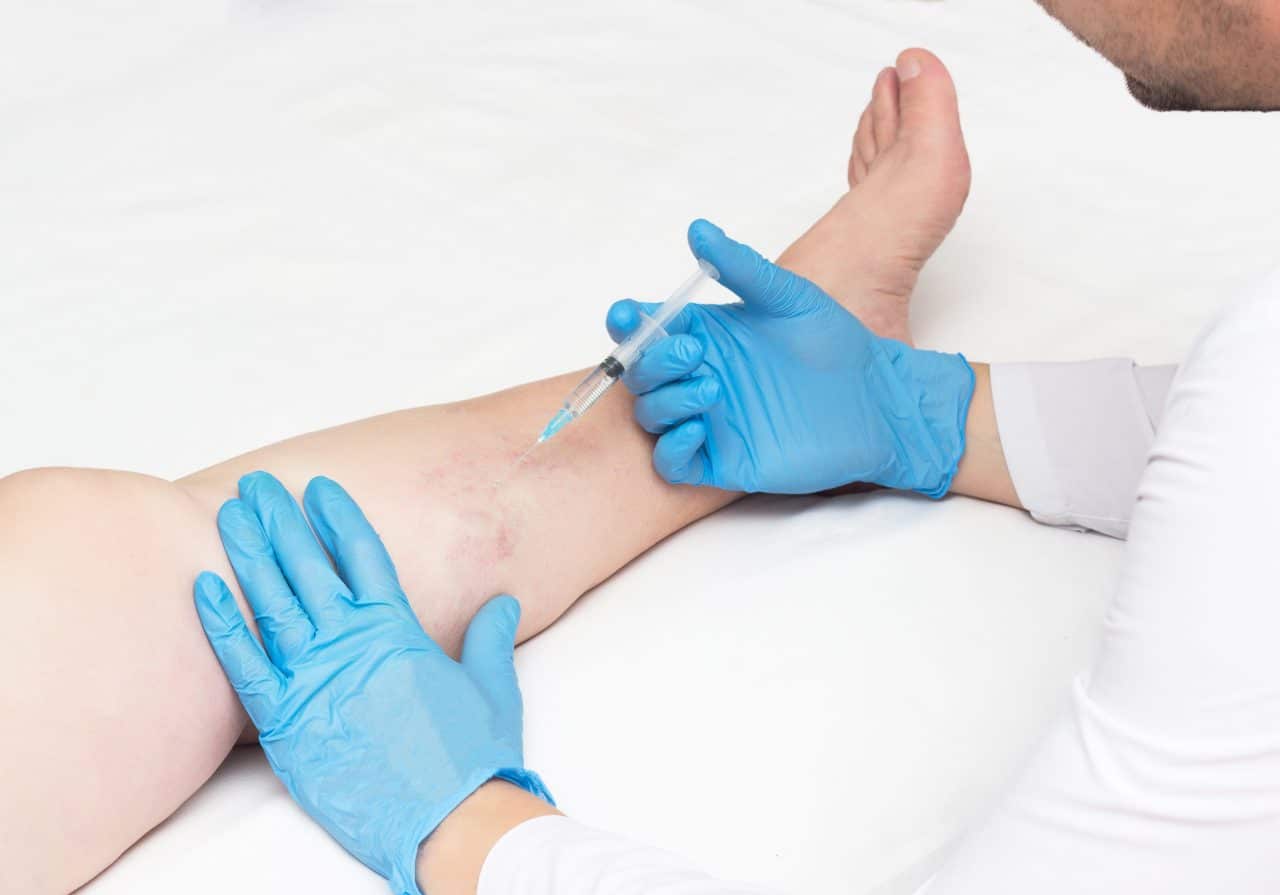 Personalized Treatment Plans based on Accurate Diagnoses
At Long Island Vein Center, we prioritize addressing the root cause of vein conditions to provide comprehensive care. We firmly believe that an accurate diagnosis is the foundation for effective treatment. That's why, before recommending any course of action, we conduct a thorough diagnostic evaluation using duplex ultrasound.
Duplex ultrasound is a non-invasive imaging technique that allows us to obtain detailed information about the structure and function of your veins. By examining the blood flow, vein diameter, and any potential abnormalities, we can identify venous insufficiency or underlying vein disease that may be contributing to your symptoms.
This enables us to understand the unique aspects of your condition and develop a personalized treatment plan tailored to your needs. By addressing the underlying issues, we can provide the most effective outcomes and long-lasting relief. Our approach is focused on not just treating the visible symptoms but also improving your overall vein health and well-being.
Board-Certified Vein Doctors at Your Service
At Long Island Vein Center, our vein centers are staffed by a team of highly qualified and board-certified vein doctors. These medical professionals possess extensive experience and expertise in the field of venous care. They have undergone rigorous training, staying up-to-date with the latest advancements in vein treatments and technologies.
When you choose Long Island Vein Center, you can have complete confidence in the skills and knowledge of our vein doctors. They are dedicated to providing the highest standard of care, prioritizing your comfort, well-being, and satisfaction throughout your treatment journey. Our vein doctors understand that seeking treatment for vein conditions can be daunting.
That's why our vein doctors create a welcoming and supportive environment for every patient. They will listen to your concerns, answer your questions, and address any anxieties you may have. You can trust our vein doctors will guide you through every step of the treatment process, explaining each procedure thoroughly and ensuring you are well-informed and comfortable.
Convenient Locations for Easy Access
Long Island Vein Center has convenient locations across Long Island to serve you better:
South Shore: Our clinic at 500 Montauk Highway, Suite G, West Islip, is easily accessible from the southern state parkway. Situated on the border of Suffolk County and Nassau County, it is close to the Bergen Point Golf Course and the Southward Ho Country Club.
North Shore: Located at 350 Jericho Turnpike, Suite 1A, Jericho, our North Shore center is conveniently situated off the Long Island Expressway and the Northern State Parkway.
The Hamptons: In partnership with MDCS Dermatology, our center in the Hamptons can be found at 225 W Montauk Highway, Suite #3, Hampton Bays. We offer ample parking and are just a short drive away from neighboring towns in the Hamptons.
Port Jefferson Area: For those in the Port Jefferson area, our center at 70 North Country Road, Suite 201, is conveniently located across the street from Mather Hospital.
Free Insurance Verification for Your Peace of Mind
At Long Island Vein Center, we recognize that dealing with insurance coverage can be overwhelming and confusing. To make the process seamless, we offer free insurance verification even before your first appointment. Our team will work closely with you to verify your insurance coverage and ensure that you have a clear understanding of what is covered.
We will assist you in gathering the necessary documentation, filling out any required forms, and providing the information needed for a smooth insurance process. Our goal is to take the burden off your shoulders and provide you with peace of mind, knowing that your insurance matters are being handled efficiently and accurately.
Long Island Vein Center is a leader in vein care, offering comprehensive and minimally invasive treatments for spider veins and varicose veins. With a team of board-certified vein doctors, accurate diagnostic evaluations, and convenient locations, we are committed to delivering personalized care and optimal outcomes. Take the first step toward healthier veins by scheduling a consultation with Long Island Vein Center today. Your vein health matters to us, and we're here to help you every step of the way.